(REMEMBER YOU MUST BE REGISTERED TO POST YOUR APPLICATION)
Welcome New Members/ Guests, here, i'm going to show you how to join the clan..
There are
3
Steps to do so:
-You have to register here (which you already did)
-You have to make an application and wait for a tryout
-You have to be active on the forums
From the time when you post your application, you will be give a
5-Day Initiation Period
During that time, you will get tried out and get to know the clan and be active on the forums. After your 5-Day Initiation Period, the Leaders and Moderators of the clan will check your account's statistics to see how active you were on the forums, how many posts, topic, etc. We also check if you have spammed to earn posts (that is strictly prohibited)
Please remember: You can make new threads and post anywhere on the forums, just make sure you're not spamming and posting in the correct section..
Here are the instructions to make your application
1. Go on the Forum (just click on the "Forum" Button on the top
2. Scroll down to the "XBOX 360 Section" and look for "Apply here to Join +RK* MW2 Group"
3. Read the post called "Read here before applying" and copy the application format that shown in that post

4. Create a New Topic to post your application in, just click on "new topic" and title it (Example: owner08's Application) And paste the format you copied earlier and fill it out with your information.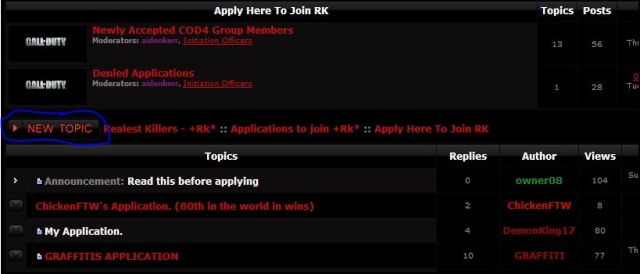 5. THAT'S IT! All you have to do know is be active on the forums and wait until an initiation officer reviews your application and gives you a date and time to when you can "tryout"
Thank you!